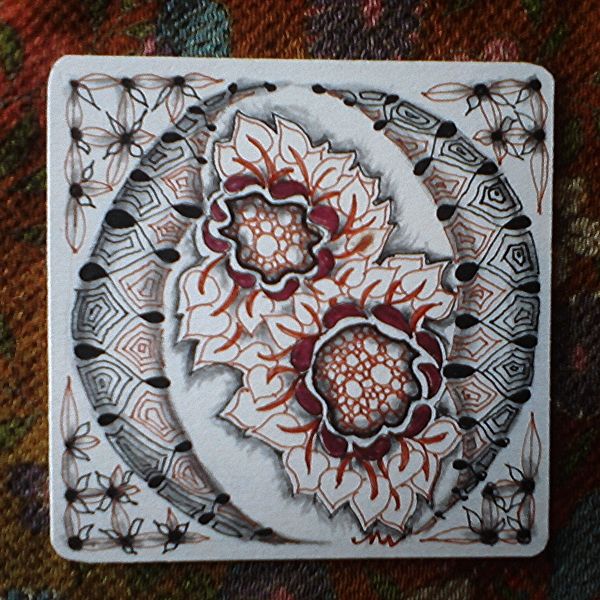 string #75 using patterns: pokeleaf, ennies, echoism & bales
They don't call these challenges for nothing. This weeks submission was particularly challenging for me as there were 4 patterns to work into a curvy string. This was my third attempt. I'm not totally crazy about this one but I had a couple of rejects already and time was running out.
It's all good though. This is the beauty of the challenge as you learn more from your mistakes than you do from success. I find that trying to get just the right balance of tone, structure and organic within the confines of a string the most satisfying part of the journey when I get a piece that's an improvement over the last one. This was my second attempt:
The only thing I liked about this was the Echoism. My first attempt was pretty dreadful and disappeared somewhere.
It's all part of the journey. I've been having a bit of fun working on my shading and while digging through my old art box I came across a tool called a Colour Shaper. I have no idea where I got it (I was in art school 20+ years ago), but along with a super soft 6B graphite pencil I've managed to step away from the smelly Prismacolor colorless blender for a while.
The color shaper (on top) has a soft rubber tip that allows much better control of the soft graphite and produces a feathery edge when you drag the tip outward as seen at the outer edge of the flower template and along the aura of the pokeleaf on the tile. I was inspired by a
really cool drawing
I found on the Zentangle Facebook page and sorta copied the template to practice on.
I like using the 6B pencils as you can vary the pressure as you draw to get a heavier deposit of graphite in corners you want in darker shadow.

I've only been at this blog for a couple of weeks now and I just want to thank you all for stopping by and taking the time to leave your comments.