.
Square One: Purely Zentangle
Pattern of the Week: BB
Other patterns used: Pots 'n Pans and Zinger
This was an oddly successful doodle and the best example of why these challenges are so inspiring.
I was not too thrilled with the pattern of the week. I've seen it here and there but I don't think it gets used much. With so many great patterns out there, it seems pretty boring.
When the challenge appeared last week I was so impressed to see so many great takes on this pattern. My first attempt:
I though it was ok. Not great. I was about half way through it when I got a really nasty cut right down the back of my middle finger of my right hand from the jagged edge of a broken heavy glass tumbler that was left in what was apparently a recycling basket at a house I'd just started dog sitting at. I'd already gotten the "BB" part of the tile drawn and was planning to fill in the remaining space but then my finger was all bandaged up and all I could manage was a clumsy attempt at shading.
In the meantime, I perused all of the other submissions.
There were so many fantastic pieces out there and several that added vine or leaf patterns and that's what gave me the idea of a potted plant on top of a stack of books. I could not wait any longer and it all materialized quickly.
Pots 'n Pans just happened to be the first step out (found at tanglepatterns.com ) I'd drawn in the new pattern journal I'd started a couple of weeks ago: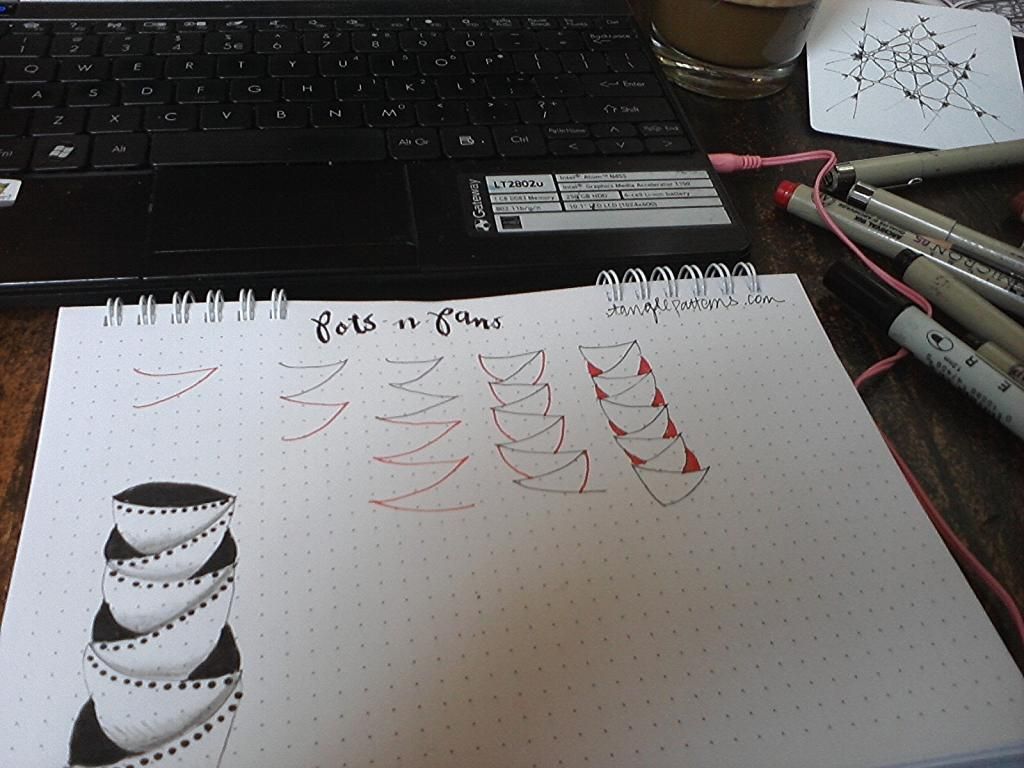 Zinger seemed like the natural companion to the goofy look the tile was taking on. I used a Rapidograph technical pen to fill the black areas on the pots 'n pans and proceeded to smear ink all over when I was nearly finished, hence the stippling.
Anyhoo, I hesitated posting it because it was so messy but decided what-the-heck.
It got over 200 likes and many wonderful comments.
That's what I love about Zentangle. There are no mistakes and many happy accidents.