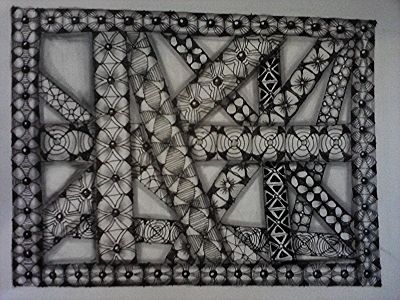 Diva Challenge #234-UMT: CanT
I had so much fun this week with all of the great patterns the challenges had in store. I've been away from my routine for a bit so it's nice to get back into my groove.
First up with The Diva: this took on a life of it's own. It started off as sketchbook practice and it wasn't until I decided to frame it that it felt like it could be a finished piece. I wanted to take it out of the grid and play with the endless variations that this pattern is capable of. What a great pattern-it's definitely going into the repertoire of faves!
That's New to Me #36: "Yang" & "Yah"
This was fun. Who loves "Yah" baby. I did not know when to stop. I'm down to the last couple of watercolor ATC's from this group. I started with an 11 x 14 sheet of bristol board that seemed to generate an endless stack of ATC's.
Made by Joey #77: Alphabet Monotangle~N'zeppel
I loves "Yah", but I loves "N'zeppel" more.
Thanks for visiting my blog. Your comments always make my day.