Diva Challenge #236~"Tangle Unexpected"
The idea is to tangle on something other than your traditional paper. I shall admit to cheating right off the bat because this wasn't entirely "unexpected". I'm always picking up interesting postcards and coasters that make me think "ooooh, I could tangle on this sometime" in anticipation of challenges of this ilk
,
but this is the first time I've ever done it. The glossy surface was both nice to draw on but some of the wetter parts took longer to dry than expected so I had a few smears
.
I knew this had tangling potential from the get-go.
That's New to Me Challenge #38
explore a new "Z" pattern
"Zag V" by Helen Williams
I'm on a bit of a Helen Williams kick this week after receiving her eBook " Three Little Rules", so when I started searching "Z" tangles, "Zag V" jumped out at me and I knew I had to get to work. I love this pattern and I shall use it often. The Facebook group Square One: Purely Zentangle is focusing on "Meringue" this week, and though I've yet to create a tile for the group, Helen's tutorial has me flinging "Meringue" everywhere I can.
a work-in-progress piece from Helen's eBook.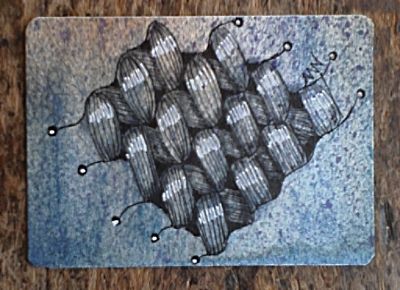 Made by Joey Challenge #79
"Pea nuckle"
Oh boy, this challenge really vexed me! I've attempted to practice "Pea nuckle" before because I love the way it looks, but I ALWAYS give up because I can not get it right. This is a hot mess under the shading and my watercolor ATC also masks a multitude of errors. I watched Ellen Wolters You Tube video and though it made much more sense, I still had trouble with it. I'm hoping to get another go at it.

Thanks so much for stopping by! Your generous and thoughtful comments always inspire me.