String 105
Dicso, Undu, Daviso & X-ess
This was a challenge indeed. Several great patterns and an organic string~nuthin' wrong with that.It all seemed so promising as I was eager to try Daniel LaMothe's "Undu" pattern when I saw it come up on
Tangle Patterns
recently and I had already tried and liked Mina Hsaio's "Dicso", a few
That's New to Me
challenges ago.
I had ideas and got started: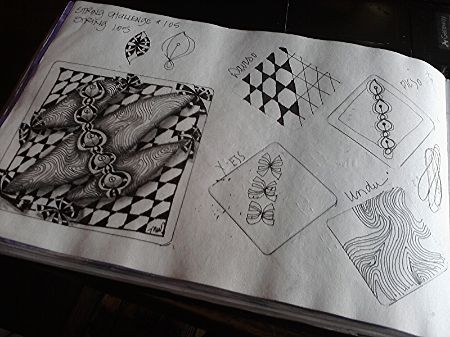 This first attempt just didn't come out the way I'd anticipated. All I can see are the flaws and mostly it has to do with the shading and I wasn't all that happy with the pattern placement either but I kept going. It wasn't until I was almost finished that it occurred to me that the string itself was 3 elongated Dicso shapes. I finished it and put it away for a couple of days because, as we all know, our perceived foibles tend to suck less another day. That was not the case here.
This morning, after coffee, I began anew. I can't say that I'm all delighted with this one either, but it is what it is.
Thank you for stopping by. Your comments always brighten my day. I always reply to comments here but I only just realized most you probably never see them. I'm going to start replying on your blogs instead. Again thanks to all of you who comment regularly here.