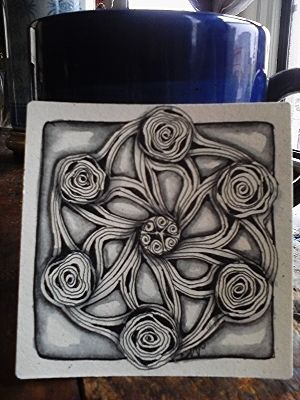 Zendala
by guest blogger Erin Olson
Yesterday I was noodling around on Pinterest when I came across a video from the Diva's
100th
challenge post of Laura drawing "Diva Dance". I watched it over and over because I loved the music and it all finally clicked. I rarely used Diva Dance even though I love how I've seen it done by Maria Thomas and Helen Williams and other more capable pens. I just couldn't get the rhythm of it so I never bothered.
I had also just picked up 2 new watercolor tablets at a 2 for 1 sale at Aaron Brothers. Ready with a fresh stack of watercolor ATC's and the video playing in my head, I started practicing "Diva Dance" and ended up with several versions of this:
After reading the challenge this morning and getting the template down, I stared at it for quite a while pondering all manner of patterns that might work. Zendala's aren't really in my toolbox yet and though I wanted to go for something more...uhmnnn....zendala (ish), Diva Dance was still dancing around in my head.
"A" pattern(s)~Abundies
artist focus: Karry Heun's "Landgirlz" & "Stitch"
These are all new patterns for me. I'm finding the ATC sizes to be perfect for many of the challenges. Less space to fill. This is one of the new watercolor backgrounds I made yesterday. I used a Prismacolor pencil for the shading.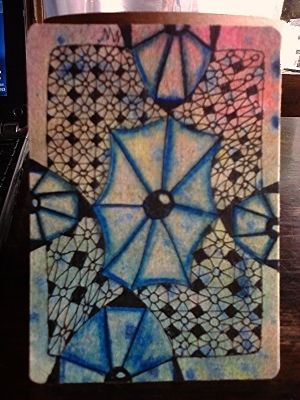 "Jemz" monotangle
Watercolor ATC
Prismacolor pencil shading
I picked this watercolor ATC because it had colors that were gemtone, though it's not represented very well by my idiotphone camera. I'm not a fan of grid based patterns in a monotangle. I am a big fan of Margaret Bremner's "Flying Birds" string though.
Thanks so much for stopping by. Your comments make my day.