string: 090
patterns: Mel Mel, Curl & Cruffle
I've really been slacking on my String Challenges, which really bums me out because these tend to be the challenges that teach me the most. They're a lot of work and the pay-off is the most gratifying. The problem tends to be timing as this challenge isn't issued until Tuesday afternoons and that's about the time my tangling time dwindles since my weekends are Monday & Tuesday.
Anyhoo, here's #98 featuring Adele's new pattern Mel Mel. It looked simple enough-a loopy petal. Well... I had a heck of a time getting the six loops to kiss and then end at the beginning...and look pretty. I just had to give in to my own organic loopiness and let it be.
I also bite off waaaayyy more than I can chew within the confines of tangling time. Between the challenges and the Facebook groups I follow and try to participate in...well it's a juggling act sometimes, but I love it!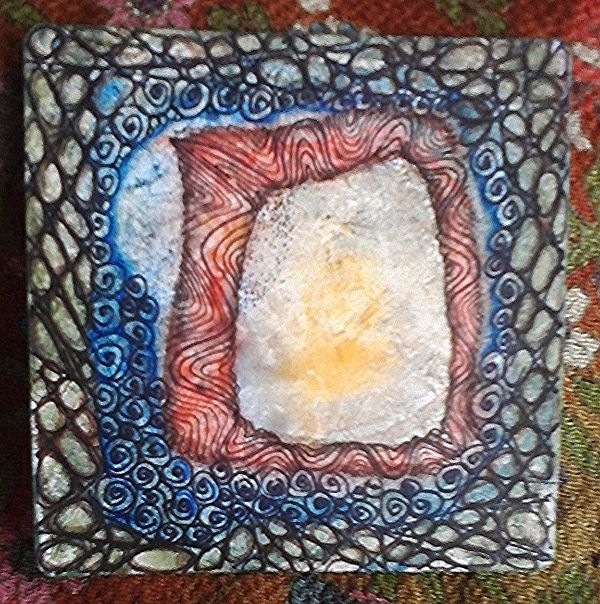 A stacked tangle of sorts just for fun
I recently joined the Facebook group
Stacked and Tangled
. This was one of the watercolor wash tiles I'd created for last weeks Diva Challenge which was to incorporate color. The colors were laid in a frame like formation and then blotted with a paper towel. The string sort of emerged within. The photo doesn't show it well at all but there was some really interesting light and color stuff happening right in the center and I didn't want to cover it. There was also a partial circle where the paint was lighter so I highlighted that area. It looks like an eclipse.
Thanks so much for stopping by! Your comments always brighten my day.