Colors of the Rainbow for Pride
I did watercolor wash backgrounds on several tiles and just stared at them until the strings inherent in the color variations began to emerge.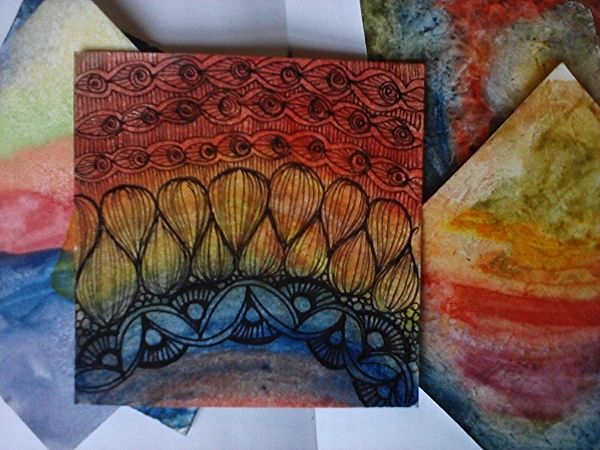 I picked one and started with Crescent Moon, then Diva Dance wanted some space, followed by something I can't remember right now, then Narwal dropped by, followed by another pattern I can't remember and finally Black Pearls.
The next one went quickly. I was noodling around on Facebook, while watching TV and on one of the many tangle group pages I belong to, I began scrolling down the posts and began picking a random pattern for each layer. I neglected to write the pattern names down but one of them I know is PeaFea (the top layers on the red & orange).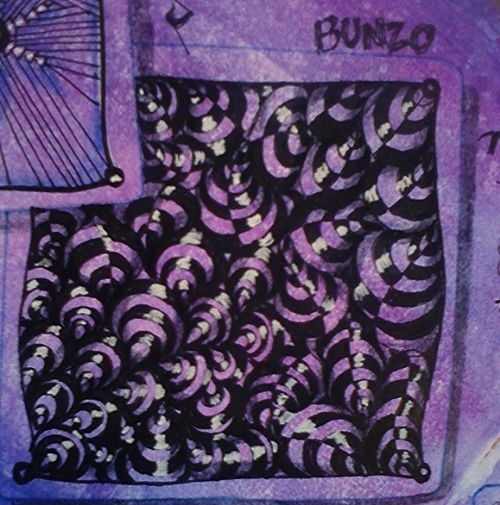 Alphabet Monotangle~"B"unzo
I like this pattern when others do it but it's one of those I never use because I can't get it to look clean. Nor was I able to find a way to get some variety in it. If it wasn't for the crutch of my colorful watercolor page, it would have been totally boring. I stole the split Bunzo idea from something I saw on
Lily Moon's blog.
"Richardson" & " Pines"
This pattern combo sounds like a law firm or a TV cop show. The challenge this week was to explore a new pattern beginning with the letter R. There was also an artist focus this week on Lila Popcheff. I'm using Neil Burley's pattern "Richardson" and Lila's "Pines". I really enjoyed this challenge. I wasn't familiar with
Lila Popcheff's blog
and was delighted to find so many great patterns there that I'd never seen before. I've bookmarked several for future exploration and New to Me challenges. I also love Neil Burley's
website
and his amazing patterns which are very architectural and challenging. I embellished "Richardson" quite liberally.
Thank you for stopping by. Your generous comments make my day.