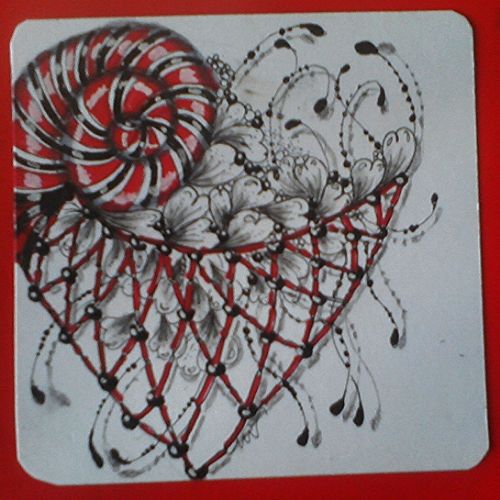 string 39
Luv-A, Hugs and Kisses and Marasu
This is the weirdest tile I've ever created because it started off with a very intentional direction then totally veered out of control...which is why I love it and hate it at the same time. It's definitely got its flaws but I embrace it because upon reflection, I feel like it truly embodies the Zentangle journey. It went something like this:
The parameters were to start with this string...
...oh cool! I'm still obsessed with the spiral pattern "Marasu", so I knew exactly what I was going to do first~ go rogue by not using any of the prescribed patterns...yet. I did the spiral- color, highlight, shadow, then pondered my pattern options;


Luv-A, Loveline, Hugs & Kisses and Kiss


By this point I was familiar with all but one of the patterns-"Hugs & Kisses". Upon investigation I was not keen on it and had no intention of using it. I ixnayed "Loveline" from the get-go because no matter how I've played it over the last several challenges, I can't get it to look good. I was going with "Luv-A" and "Kiss".
I discovered "Kiss" awhile back while pursuing another string challenge. It's the background pattern behind the feather. I like this pattern a lot and had every intention of using it again.
As the tile moved along, "Kiss" disappeared and "Hugs and Kisses" clumsily worked it's way in, I considered abandoning it more than once but kept at it. I purchased my first white gel pen yesterday and figured it would at least make a good practice ground, so I kept going.
I thought it was finished more than once, but something kept me going with it. When I finally called it finished, I considered not posting it and had a fleeting thought to start a new one, but decided it was noteworthy whether I begin again or not. We shall see.
Anyhoo, thanks to all of you who take the time to read these musings and many thanks to those who take the time to comment. I truly appreciate all of you.