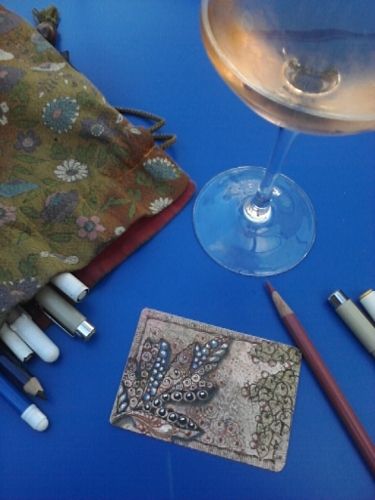 I don't know where I heard or read that quote but I've been carrying it around with me for years.
Sunday, I spent a lovely day at the California Academy of Sciences looking at all sorts of natural beauty, inspired by the vivid colors I saw everywhere.
I'd also brought along a little sack of works-in-progress should the muse arise. It did whilst sipping a glass of wine and pondering the vivid blue table top.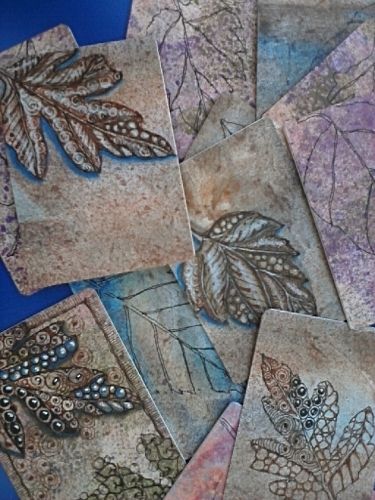 I'm creating several ATC's for this month's Zentangle Artists Trading Card Swap. The theme is
Everything Autumn
. I've been waiting for a reason to use leaves. I started this about a week ago, collecting, pressing, tracing and stenciling.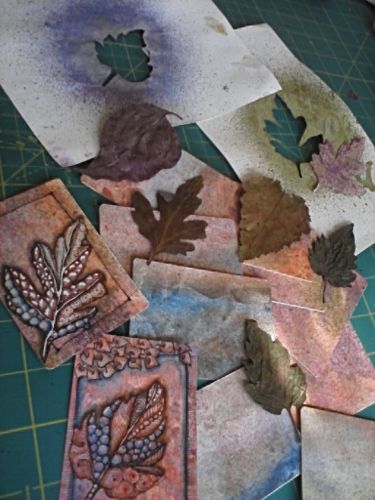 I made my
watercolor wash backgrounds,
laid down leaves and hand cut stencils from those leaves and did a final spray of color. I cut the ATC's and started tracing leaves and drawing the string of veins.
It was at this point I saw
This post
on The Diva's Weekly Challenge Facebook page and it all came together. I loved the technique she used to tangle within the leaves and incorporated it into my framework.
Scanning my artwork has proven to be an exercise in patience.
Diva Challenge #240
Autumn Leaves
ATC
Here's another one:
More challenges:
New "P" tangle: Neil Burley's "Pearl Drops"
Artist focus: Sayantika Ray's "Woodlock"
"Ta-Da"
Another white on black for me. I love this pattern and diggin' the dark side. I love the technique Laura linked to in last weeks challenge where you go back over the white with black. I'm also exploring the black gesso technique for the next Zentangle Artist's Trading Card Swap.
As ever, many thanks and much gratitude for visiting my blog and leaving such inspiring comments.