&
"Finery", "Munchin" & "Beadlines"
This weeks challenge at
I am the Diva
was put forth by guest blogger Katie Cromett:
Simplicity.
The challenge is to use no more than 3 patterns, don't fear the white space and know when to stop (I have trouble with this).
I've been in watercolor mode for a while so I welcomed the challenge to get back to basics. I got back to Square One, a Zentangle inspired Facebook group that challenges us to focus on one pattern each week, though other patterns are allowed within the tile, the perameters are to use white tiles only, 3 1/2" square, black ink and graphite shading. I used Margaret Bremner's
flying bird string
. So simple but so effective.
"W" pattern: Wilted Lettuce by Suzanne McNeil
&
Artist Focus: Erin Olson CZT
"Bault"
This is an ATC using some watercolor cards I had left over from an ATC swap. I loved the pattern "Bault", a new-to-me pattern found on Erin's blog
The Bright Owl
. I searched and searched for new-to-me "W" pattern and landed on this very simple "Wilted Lettuce" on Suzy Mosh's
pinterest page,
a great collection of patterns which includes many patterns you won't find on the
Tangle Patterns site
.
Last week, I created a series of ATC's for the
Zentangle Artists Trading Card Swap
Facebook group
and got a few inquiries about how I did the watercolor wash when I posted some pics. I really enjoyed making them and as I got set up to do another one, 'cuz now I'm totally addicted to them, I thought I'd attempt some process pics.
Please leave a comment if you found this helpful, or not, or if my instructions are lacking or confusing. There are some great You Tube videos on doing water color washes too.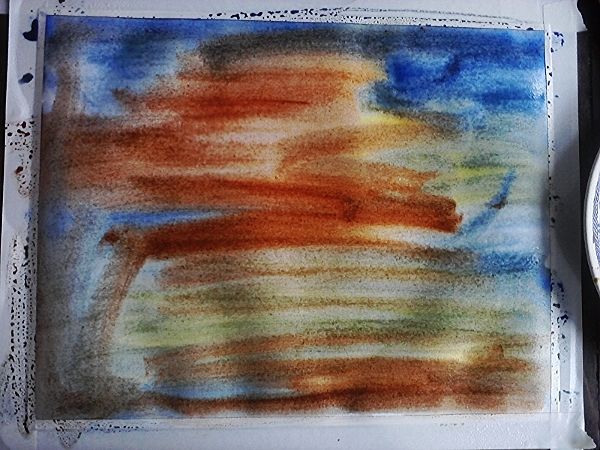 I used 11 x 14" Bristol vellum
1. Tape the paper down to a hard surface (this is the back of a large masonite artists clip board).
2. Wet the paper really well with mists of water from a spray bottle or a large paintbrush.
3. Paint on your chosen colors (I get my inspiration from
rust
;-), keeping it all quite wet. Yes, this looks like a hot mess. If you don't like what's happening blot it off with a paper towel and start again.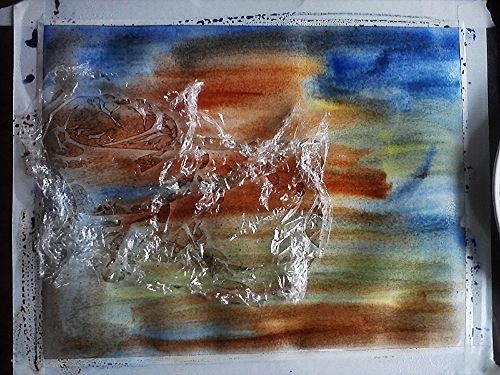 5. Blot with wadded up plastic wrap to get some texture happening.
See, it's looking much better.
6. Finally, splatter a last layer of color. I load up the color on one brush and tap it across the wood of another brush. You can also use an old toothbrush for a finer mist by scraping your thumb across the bristles to spray the color.
7. Use a hot blow dryer. This will significantly diminish the rippling of the paper. When it's completely dry, carefully pull off the masking tape.
8. Trim away the edges and cut to size. Voila!
I trimmed the corners to round them slightly. Now I'm ready to tangle!
Thanks for stopping by. Your generous comments always make my day.
If you would like to swap an ATC with me, leave a comment below and then message me
here
with your mailing address.