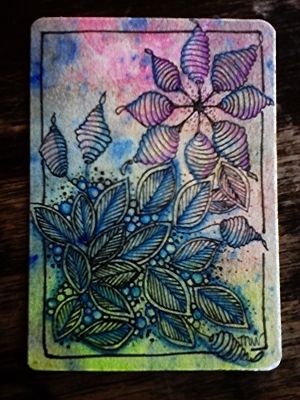 explore a new "L" pattern ~"Lampions" by Mariet Lustenhouwer
& the works of JJ LaBarbera~"Leafy"
I enjoy several of JJ LaBarbera's patterns. I've used "Vercut", "Verve", "Ticking" and "Allium" before, but I found a new one and it also starts with an "L". I love "Leafy". I also discovered "Lampions" which is similar to one of my fave's "Zinger". I may have drawn it closer to "Zinger" now that I look at it again. Mariet's shapes are a tad fatter and more lantern shaped. Oh well...
This ATC could also cover this weeks Diva Challenge brought to us this week by Cari Sultanik who challenged us to go organic. I could do this all day, every day.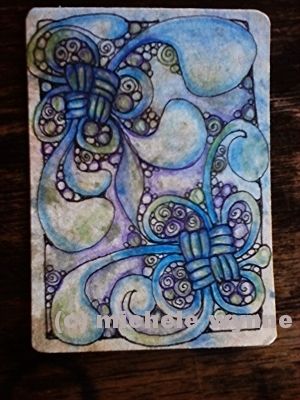 I'm still sort of obsessing with Mak-ra-mee and I had a couple of these blue-green watercolor ATC's laying about, thus I ended up with something quite aquatic.
"Hollibaugh" monotangle
I decided to keep this one simple. Unfortunately, my cheapo cell phone cam did not pick up the nuances of the watercolor background that prompted me to pick up this particular ATC and not cover it up with a lot of stuff.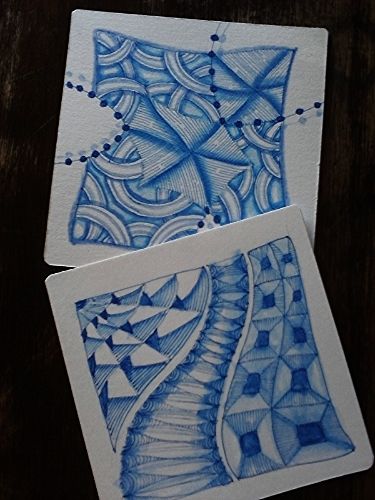 These two tiles are works-in-progress that I'm noodling around with for the Facebook Group
Zentangle Artist Trading Card Swap
. The challenge is to use one color and three patterns only per tile. The colors can be different for each tile and the patterns can be different, but each single tile has to be monochromatic. This is NOT my forte. I like to draw with black ink. My toolbox only includes a couple of random blue and sepia Microns, oh, and one kind of rust color and I only ever use those to create fillers. This is going to be a major challenge.
Thank you so much for stopping by! Your comments always make my day.