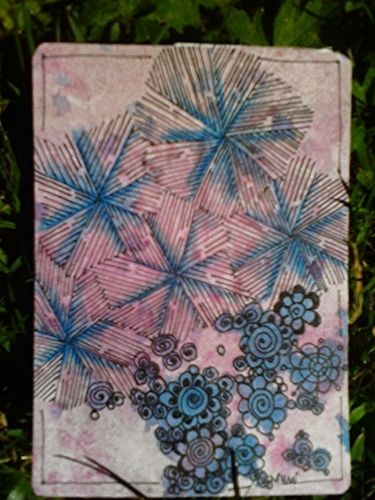 "Color"
ATC using "Frost Flower" & "Soo Flowers"
The Diva is enjoying some much deserved vacay. This week's guest host~blogger, Jen Crutchfield's prompt is to go forth with some color, not a rainbow but 2 or 3.
I'm currently working on some ATC's for the Facebook group,
Zentangle Artists Trading Card Swap.
The theme is watercolor. So I'm directing these two challenges into my ATC's today.
a new "H" pattern and artist focus on
Michele Beauchamp (aka Shelly Beauch)
Mak-rah-mee & Heartbeat
I decided it was time to learn Mak-rah-mee. I've made a few clumsy attempts at this pattern in my sketchbook in the past and it vexes me every time and I give up. Shelly's work is nothing short of amazing... so delicate and elegant. I had a hard time searching for an "H" pattern to go with it. I ended up going with "Heartbeat" and tried using it as a fill first. Not successful, but once I tried it as a border I loved it. I'm definitely keeping it in the repertoire.
It was gorgeous today so I headed to the park to draw. More "Mak-rah-mee":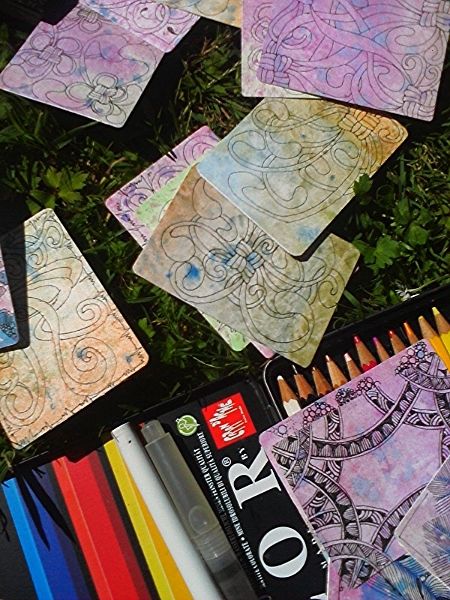 These are all works-in-progress that I will be sending out into the world within the next couple of months. I'm a little OCD, but each one got a little bit less crappy.
Thanks for stopping by. Your generous comments always make my day.