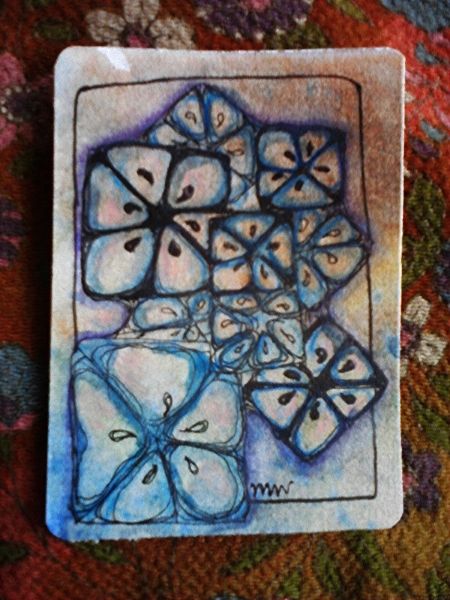 Monotangle with "Florez"
This week's challenge at Made by Joey was to use "Florez" in a monotangle. I love "Florez" because it's similar to my favorite pattern "Nzeppel". I'm not sure how it works as a monotangle though. Maybe my brain is lacking the bandwidth this week to think outside the box and explore variations but I've fallen back on the crutch of color.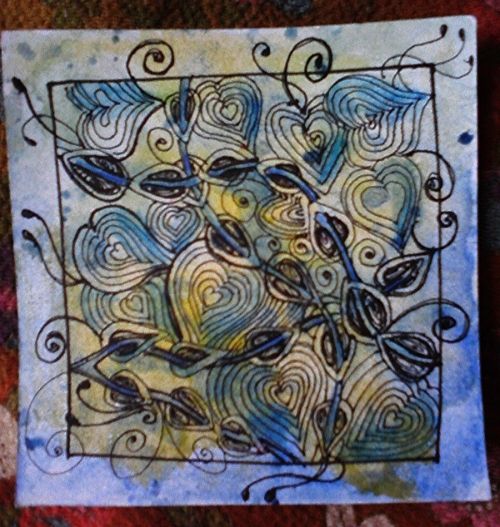 Rixty & LG
I had no intention of making this the tile for this weeks String Challenge, but ran out of time. I had a couple of pieces of flimsy card stock I'd stuck in my bag from the scrap paper bin at work, I use them for taking little notes. I was noodling around with the water colors, trying to match the colors of rust from a Pinterest photo I'd saved. It turned out nothing like what I was going for but it had some merit.
I picked up a pen to practice some "Rixty". This is not a favorite pattern of mine and I only use it when challenges make me do it. Anyhoo, this emerged. It actually looks better here than in real life because the colors photographed much more washed out and don't fight the patterns. Another happy accident!
Thanks for stopping by. Your comments always make my day.