Roman Numeral String Series: XV
Patterns: Seedlings, Garlic Cloves, Black Eyed Peas, Chard and Corn Rows
I've been out of my comfort zone/routine this week as I'm house/dog sitting for a new family. I managed to crank out some challenges in spite of a few technical glitches.
This is the last of Joey's Roman Numeral String Series introducing several "new to me patterns". This one did not really flow to my liking and I feel like I need to do another one. That being said, I usually don't do much better the second time around so I may just leave it. I'm thinking that for my next post I'll do a group shot of the series when I get back home.
"Big Skye/Little Skye" #3
"Skye"
The Diva Challenge this week features Margaret Bremner's new pattern "Skye" thus making another appearance here. It's a good thing I like this pattern so much because it's showing up everywhere.
Moving along with the "Big Skye/Little Skye" series for my next swap, I just completed #3 to kill two birds with one stone. I'm using "Skye" as the string and also using it within.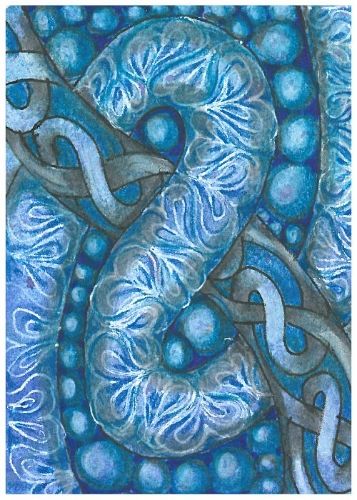 Big Skye/Little Skye #2
Pixioze, Blooming Butter and Zinger
Adele provided the string of circles. Although I've seen it around quite a bit, I've never used "Blooming Butter" before. I love "Pixioze" and "Zinger"...this is a different attempt at "Zinger". I made up a set of watercolor tiles on some green parchment card stock a while back.
This next one is on a tile from the same set. I created this last week for one of my Facebook groups which introduced a new pattern called "Aurora" by Sarah Harrison.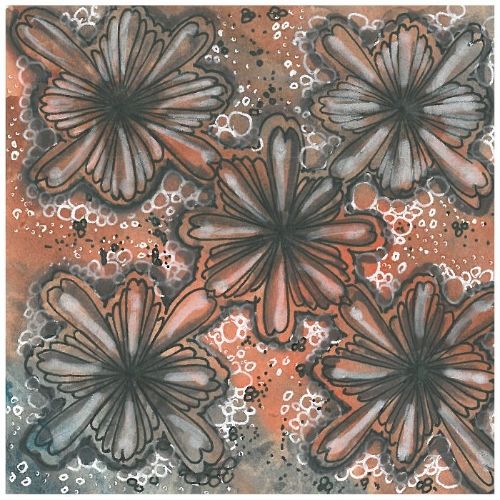 "Aurora"
Thanks so much for stopping by. Your thoughtful and generous comments inspire and delight me.