Good Morning lovely tangle friends. Here I am, before the crack of dawn, with my coffee and finishing up Joey's latest challenge (which was the perfect string to head this post). I tweaked the string a teensy bit but, without further ado...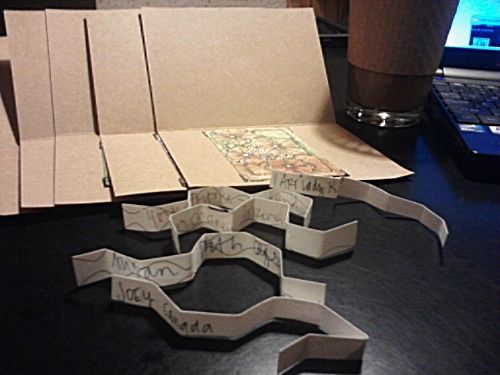 The 5 names I just pulled out of the ginger jar:
Joey (Ms. "Made by" herself)
Many thanks to everyone for your regular visits to my blog and for being such generous and thoughtful commenters. This activity inspires me and constantly excites me as an artist. I love seeing all of the work you guys create and the challenges that continuously push us all out of our comfort zones. This community means so much to me.
So ladies, please send me your snail mail address and I'll get these out to you as soon as I hear from you: michelewynne1 (at) gmail (dot) com.
These are the Bijou refrigerator magnets I'm just finishing up. Sorry for the blurry pic. The sun still hasn't quite come up and my camera hates incandescent light and they're laminated so a little reflection doesn't help matters. Yes...more gems.