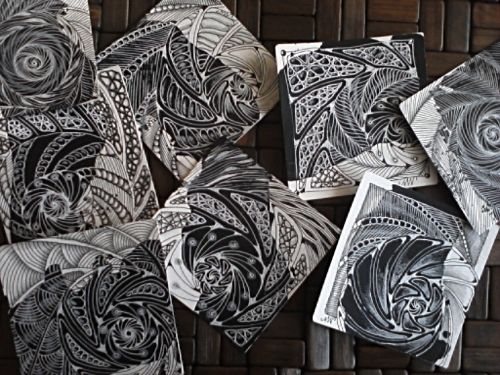 "Niuroda November"
black gesso on white watercolor paper
black ink, white gel pen, grey watercolor pencil, white Prismacolor pencil
for the ZATC Swap group
Several months ago I embarked on another Zentangle journey. I began participating in the Facebook
Zentangle Artists Trading Card Swap Group
and just this month in the
Zentangle: Tangled & Journaled, Too
group
.
For the last 18 months I'd been hoarding my little pieces of art, much of it stashed away and forgotten entirely. It was scary at first, sending my art out into the world, but I quickly became addicted to it.
There are so many layers of satisfaction in this process, from deciding on a theme (based on parameters set by the group administrators) to executing variations several times over, becoming more and more solid in my technique with each piece, then wrapping it all up and finding that perfect card to protect my piece while adding to it's presentation. It's so pleasing to create a piece of "Happy Mail" that will hopefully make opening the mailbox a joyful experience for my swap-mates. Then there's the joy of opening my mailbox to find a hand addressed envelope. I love holding original art in my hands.
It amazes me how my work has developed over these few months. I challenge myself with each swap.
My approach to the black and white set above was inspired by one of the weekly challenges over at I am the Diva where she swiped black gesso over a standard tile. White on black was previously uncharted territory for me so I challenged myself to get comfortable with it.
The parameters of this particular swap was to use black & white only (with grey shading) and to use only patterns that began with the letter N. White on black was not required. I decided to go with one pattern, Niuroda, and refine the hell out of it. These came out pretty cool.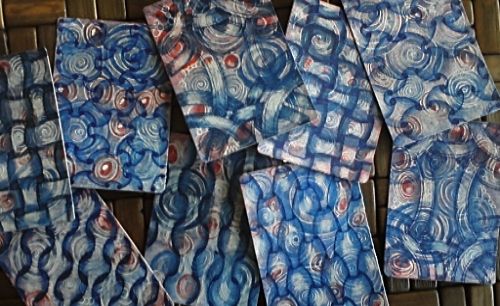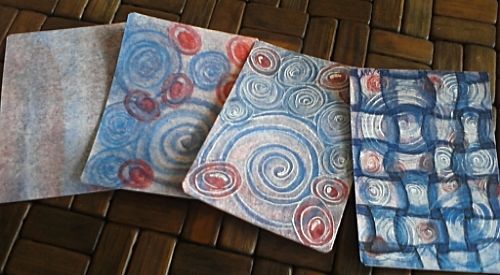 "Humanity"
for the ZATC swap group December swap
watercolor, watercolor pencil, white gel pen, blue Rollerball pen
The announcement of the ZATC December swap coincided with the tragic events in Paris. The theme was to represent support for the city of Paris. The parameters were to use Blue, White, Red and Silver and the use of Parisian themes was optional. I'm not a particularly politically charged person in my art, but I wanted to create something that represented Humanity to me, not solely a focus on Paris, but for all victims of terrorist violence.
This concluded in pieces that were multi-layered and inter-woven.
I started with the watercolor washed ATC then using watercolor pencils drew spirals and dots, then outlining them with white gel pen. The top layer is a blue Rollerball pen with watercolor pencil shading then finished with white Prismacolor pencil highlight. I love the way these turned out.
"Blue Renaissance"
watercolor, sepia and brown Micron pens, watercolor pencil and Prismacolor pencil
These 9 ATC's went out a few weeks ago to the Facebook Group Zentangle: Tangled & Journaled, Too. There were no parameters for this swap except the ATC format. I was in the midst of my black and white Niuroda November and was detoured by work I'd been seeing on renaissance tiles with brown tone inks and pencils. More uncharted territory so I made a set of renaissance inspired watercolor ATC's and started some more Niuroda's working in browns and blues.
Thank you so much for visiting my blog. Your thoughtful and generous comments make my day!