TNTM #44
explore a new "M" pattern: Marble
Artist Focus: Kathy Barringer's "Antique"
It's a String Thing Challenge #117
Adele's new pattern: Sand
I don't like the way this is scanning but the photo's not so great either. Not sure which is the lesser of two evils.
This was my practice page in a little handmade sketchbook I made the other day. I fully intended to create a real tile because I really love this pattern, but time ran out and ....well. that's a total lie,.. I went all ADD with this: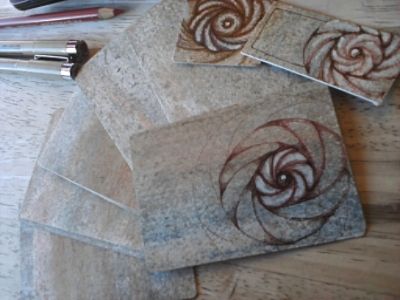 Works-in-progress
As if I don't have enough to distract me from the few obligations I have in my life, I added another Zentangle ATC swap to my plate for the FB group Tangled and Journaled, Too.
I've been seeing so many beautiful renaissance tiles out there and decided this would be a great excuse to explore it as a series for the new swap. I was initially inspired by Antonine's beautiful
insect series
she posted for her Throwback Thursday challenge #5: Unusual.
I started by creating a set of ATC's with my version of a renaissance watercolor background wash. I'm still working on the Black & White Niuroda series for my other swap group, so I just played around with it on the little trimmings from my ATC cuts, auditioning every brown drawing tool in my box figuring out how to shade it.
I'm using a brown gel pen, Micron Sepia 01 & 05, Micron brown (it's actually rust) and Prismacolor pencils Henna & White.
I'm calling this one finished... for now. I'll probably do a final drop shadow.
Anyhoo, thanks so much for visiting my blog. Your generous and thoughtful comments always make my day.