Btl Joos, Bly, Balawat & Black Pearls
Yay! I was able squeak in some drawing time last night and this morning.
That's New to Me Challenge Week 11
was to introduce a new B pattern into our repertoire. I've been wanting to do Btl joos (Tanglepatterns.com) for a while now. I like the Dr. Seuss quality of it. I found
Balawat
(the central flower) at Perfectly4med. I love the patterns Neil Burley creates. They are not easy and quite a triumph when one is achieved. This is one of the simpler ones.
This was a fun challenge. All but Black Pearls are new to me.Bly was found on Tanglepatterns.com
Plus a few random tiles. I was playing around with some watercolor washes on my hand cut bristol vellum tiles. This one began with the pattern I drew along the string line and I cannot, for the life of me, find the name of the pattern now. I had drawn it in my sketchbook weeks ago. I know it's from texasdoxiemama. If anyone out there knows what it's called please comment.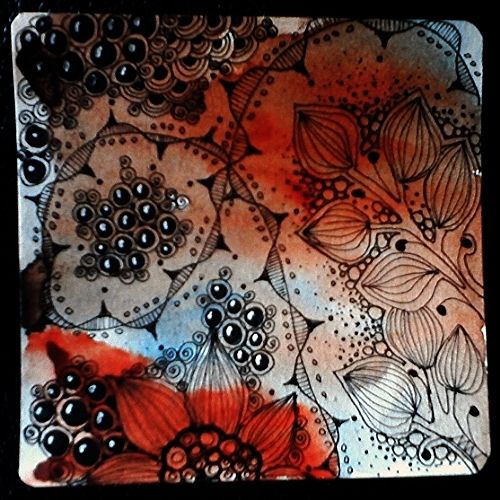 Artoo, Black Pearls, Printemps, Arc Flower, Tipple & a mystery pattern
Bunzo, Barberpole, Squavolution, Crescent Moon
and a pattern (maybe Copada) I saw on Lily Tangles
This was just a random doodle I did the other night during my Downton Abbey marathon.
Thanks for stopping by. I love your comments!