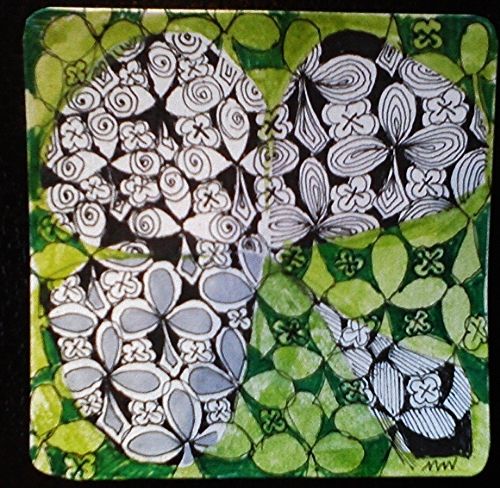 &
I didn't complete the string challenge in time to submit it, so I greened it up for the Diva.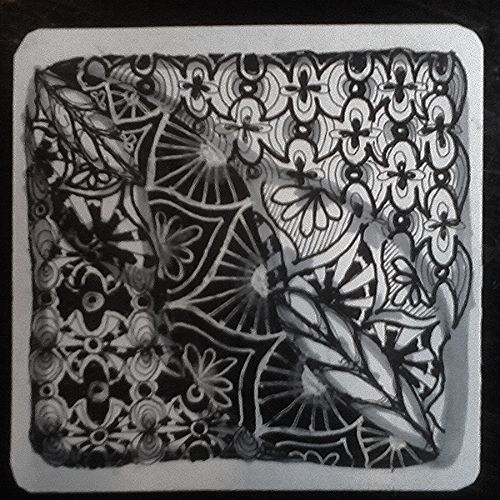 Use My Tangle "Unbatz" by Sandy Hunter
also used "Copada" within Lily Moon's string #146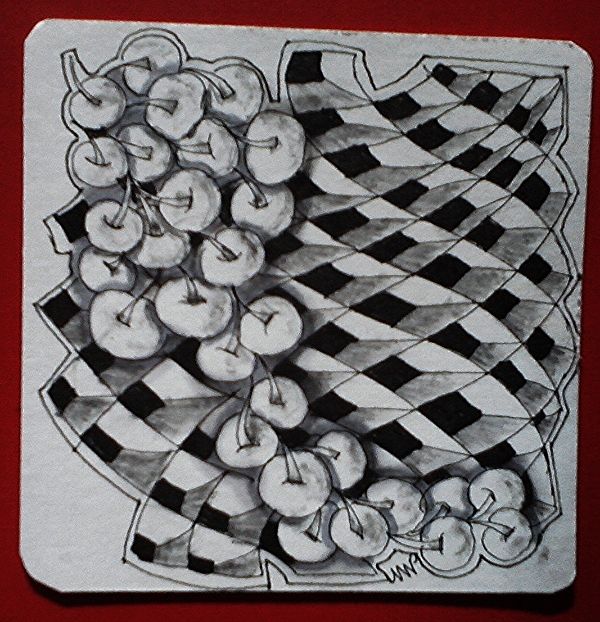 a duo-tangle using patterns Cubine and Pokeroot
So many tangles, so little time. I had an unexpected day off today due to a very unpleasant virus cramping my style, and after a 12 hour sleep, I had to get out of the house. It's a Green Tea & Creativity day today as the coffee just isn't gelling right now.
Otherwise, it's been a busy couple of weeks around here and it's really cut into my cafe time so I'm way behind on my challenges.
Much of my free time has been spent studying the wonders of cheese. I work at a specialty food market with the most amazing cheese counter I've ever seen and I've applied for a cheesemonger position. It's an extremely extensive subject and me being the Type A overachiever that I am, I've been pretty consumed. So we'll see...
I'm also having technical difficulties with my idiotphone taking foreeeeeevvverrrrr, if at all, sending my pics to both my image hosting site and my email, so when I have been able to carve out the teeny windows to draw I've been vexed in my attempts to get the pics here to the blog.
Antique, Amphora, Amoeba & Arrowheads
I finished this one this morning. This was supposed to be a practice piece hence the wonky cut corners. I have piles of bristol vellum and cardstock that I cut up for my tiles so I've never used an official tile, but I got this in the mail the other day: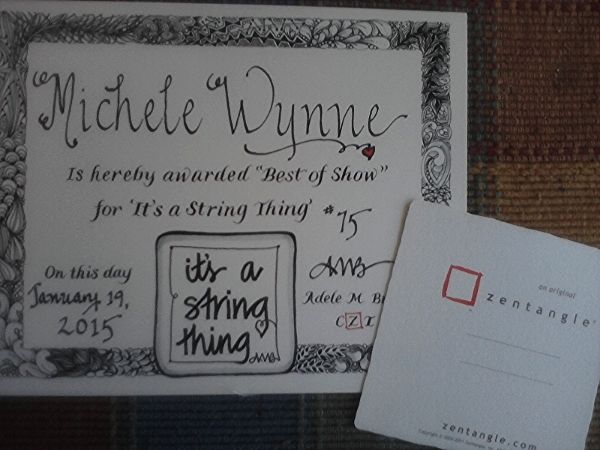 Isn't that cool?
I wanted to use my special tile for Adele's challenge and I didn't want to screw it up so I was attempting to rough out the pattern placement. It's a little busy and I didn't intend to use all of the patterns, but I just let this one take it's course. I spent so much time on it and I knew I wasn't going to have the time or the zenergy to repeat it.
Amphora & Alabastro
I love these two patterns, both new to me. I did this tile last week but never submitted it. I used Amphora again today for the String Thing challenge, hopefully with a little more finesse.
Lastly, another String Challenge from two weeks ago:
Patterns: Dutch Diamonds & Daggerly
I had this all finished and ready to submit when my idiotphone crapped out on me.

Thanks for stopping by. Have a wonderful week!