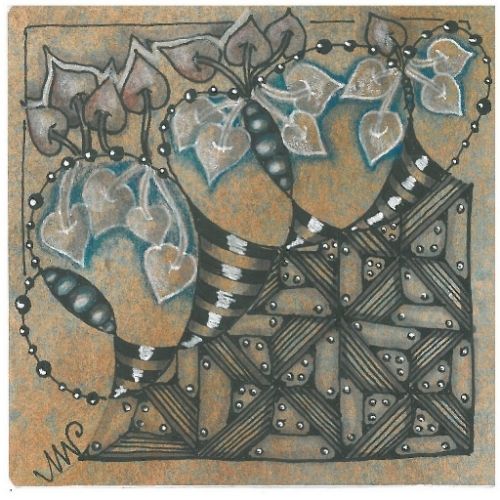 String Theory-Spring String
patterns: Striping, Pokeleaf, Beadlines, Tipple and Whyz
This weeks challenge was to create a spring string. Last month I'd created a series of tiles for a swap based on this same idea, calling it my Loopy Series. I already had some of my hand painted "Renaissance" tiles on hand. I never did make an extra one for myself so this mornings challenge presented me with that opportunity.
What I really like about doing these angled coil strings is that it creates nice spaces for combining grid and organic patterns and these go really fast (now that I've done 11 of them). For another upcoming swap the theme is Back to Basics and we're to use one of our initials to create a string and then use patterns starting with that letter. I've been adding more M and W patterns to my library and just this morning I discovered
Whyz
and started playing around with it. I love how it came out.
Roman Numeral Series IX
patterns: Mooka, Zinger, Gingham, Betweed, Ragz, Mei and Demi
Joey continues on with the Roman Numeral String Series and presented us with 7 patterns (using as many or as few as we like). She presents her strings on a standard tile format but I've been using ATC's...so getting all of those patterns (because that's how I roll) in this smaller space was tricky but...there it is;-)
Thank you for visiting my blog. Your thoughtful and generous comments inspire and delight me!